Rubbish Clearance and Waste Disposal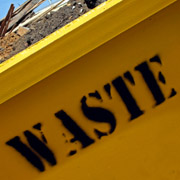 Our rubbish clearance and waste disposal service is fast, effective and hassle free. Whether you need our stand-alone rubbish clearance/waste disposal service, or if it is part of a wide office clearance programme, we are the people to call.
All the Rubbish cleared is taken to facilities with the highest rates of success in recycling. We also make sure our waste disposal service complies with all current legislation and supply you with all relevant documentation, including waste transfer notices. We can also make sure confidential or sensitive waste, such as documents or branded items are destroyed.
Please see our WEEE or IT Recycling / IT disposal pages for more information, or email us at info@officeclearancecompany.co.uk
Or call 020 7258 3633 and speak to us today!