IT recycling – IT disposal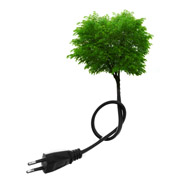 The Office Clearance Company offers a comprehensive IT recycling and IT disposal service in accordance with all UK and EU legislation (See WEEE page). Our service enables you to deliver on your corporate social responsibility objects and of course all the legal requirements. Our IT disposal and IT recycling service is completely secure, highly cost effective, ethical and green.
On collection we issue you with a Waste Transfer Notice (WTN), which discharges the duty of care for the IT equipment from you on to us, the licensed waste carrier. We salvage material that can be reused before transferring the material to large facilities where redundant equipment is broken down into separate waste streams and recycled or otherwise treated.
We also offer a full data destruction service. We understand our clients' need for all data to be destroyed irrecoverably. We have several data wiping options, both on and off site. All options are fully certified and complete data destruction documentation is provided.
Where there is IT equipment that you believe might have residual value, we will make you an offer or advise on the sale to third parties. We have extensive contacts throughout the industry and will help you maximize the value.
Whether you need just a few items collected, or are upgrading a 500 person office, call 020 7258 3633 and discuss your IT recycling – IT disposal requirements with our helpful team.
Or email us on info@officeclearancecompany.co.uk